A bucket full of candy and goodies, dressing up in a costume, running around with friends in the dark — Halloween is a whirlwind of excitement for kids, an out-of-the-norm experience that only comes once a year. That's why it's so important to make the experience a positive one for kids of all abilities.
Heart of Iowa Community Services believes that everyone in our community deserves a chance to thrive and feel welcome, especially our kids. Here's how you can take steps to make Halloween an inclusive and positive experience for everyone, whether you're hoping to make a memorable night for your child or looking to better accommodate visitors.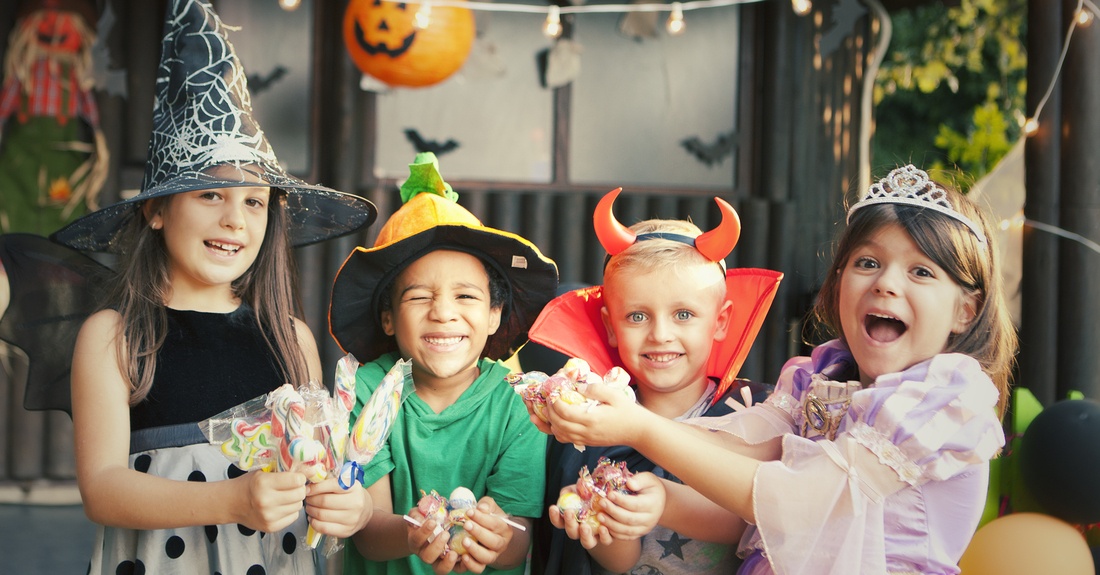 Consider costumes.
Children love dressing up as their favorite character or animal. Let kids' interests guide the costume, and empower those with intellectual or other developmental disabilities who may use a walker, wheelchair, cane or other accessibility equipment to incorporate it as part of their costume, if they'd like. It's important that their costume be comfortable and functional and provide the support they need to get around while trick-or-treating.
Be respectful and avoid using or allowing your child to use accessibility equipment like a wheelchair as part of their costume if they do not regularly use it out of necessity.
Put out a blue pumpkin.
Declare your home as friendly to those of all abilities by placing a blue pumpkin next to the front door. A few years ago, a social media user shared with those in her community that her 21-year-old son who had autism loved Halloween and wanted to go trick-or-treating. He happened to be carrying a blue pumpkin-shaped bucket to hold his candy, and she asked those who saw him and his blue bucket to be respectful. Since then, the blue buckets have become a symbol for autism awareness.
Don't judge.
If a child seems hesitant to speak, doesn't tell a joke or is having a difficult time, don't jump to conclusions. Children with intellectual or other developmental disabilities may have a sensory processing condition, so they may not tolerate the fabric of their costume. Kids could also find bright, flashing lights and décor overstimulating or even terrifying. Have patience.  
Minimize risks.
Parents or guardians who may be escorting a child with a disability on Halloween may want to scope their route before trick-or-treating or select a few trusted homes to visit to ensure a safe and comfortable experience. It's also a good idea to avoid really crowded areas if that type of environment overstimulates or intimidates children with a disability.
If you're looking to be more inclusive on Halloween, you can take steps to clear walkways near your home. It can also be helpful to keep outside lights on and even sit at the end of a driveway to hand out candy so kids with disabilities might avoid traveling across a dark lawn, up a driveway or over steps.
Pick a slower pace.
It may be necessary for those with disabilities to take a break amid the flurry of activity that comes with trick-or-treating. All that moving around in an unfamiliar space can be tiring! When handing out candy, be mindful that different children may move at a slower pace or need some extra guidance when picking candy out of a bowl.
Going the extra mile to prepare for and accommodate trick-or-treaters with intellectual or other developmental disabilities doesn't take a lot of extra time, but it will have a huge impact on making the holiday memorable for kids of all abilities.
If you're interested in other disability support services or want to get involved in supporting those with disabilities in your community, reach out at HICSIowa.org.