If the COVID-19 pandemic held any silver linings, it was the emergence of telehealth, whereby health-related services are done using telecommunication technology.
As the world acclimated to video calls via smartphones and computers, providers from all corners of the health care industry starting meeting with their patients online.Heart of Iowa Community Services (HICS)played a significant role in connecting residents of Audubon, Dallas and Guthrie counties with telehealth providers to meet their brain health (mental health) needs. 
At the time, the shift was a direct result of COVID-19. However, providers quickly realized telehealth not only limited the spread of the virus, but allowed for greater flexibility when it came to how, when and where they met with patients.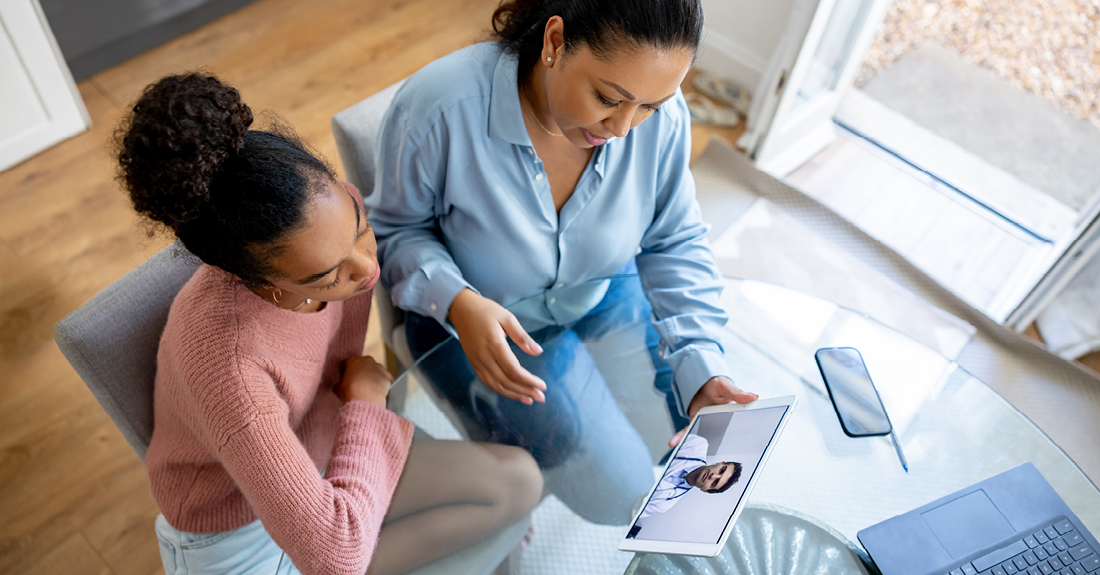 Fast forward to 2023, and while more traditional health care visits have resumed, brain health (mental health) providers have continued to utilize video conference appointments for a variety of reasons, such as:
Greater diversity among those who are seeking brain health services, such as children and the elderly.

More access to patients in rural areas.

Flexible scheduling options.
HICS has seen a steady increase in the number of parents and caretakers reaching out for brain health help for children and adolescents. In August, Ben Quanbeck was hired as a child and adolescent program manager.  A former middle school teacher, Quanbeck is familiar with the types of problems young people commonly face, such as anxiety, emotional distress, substance abuse and thoughts of suicide. Now, he's working to directly help families get connected with providers and resources.
"HICS works with people of all ages, but I specifically work with kids and their families," Quanbeck said. "There are quite a few times where parents know they need help, and they're willing to get it — but don't know how. We're here as a guide for them to get help for their children in hopes of better brain health and outcomes for everyone."
Quanbeck said some of his responsibilities include helping kids find a good fit with a therapist, getting youth to substance abuse treatment and assisting with crisis stabilization. But perhaps the most exciting part — for both Quanbeck and youth in the HICS area — is the development of in-school telehealth therapy programs.
"Right now, we have in-school telehealth programs set up in two districts, and two schools within each of those districts. When we identify a student we can help, we (HICS) work between the school counselor and a mental health provider who specializes in telehealth. It's been well-received by students, parents, teachers and school counselors. We want to do this right."

Ben Quanbeck
There are multiple reasons telehealth works for youth, Quanbeck said. For instance, in some of the more rural areas, access to providers can be very limited, or take away hours from their school day if they have to drive to meet a therapist. Offering an option for a student to meet their therapist online during the school day keeps routines stabilized. Youth are also comfortable with screen interactions, making it a normal way for them to interact and speak with medical professionals.
"In both of our school districts, we have the telehealth programs in an elementary and middle school," Quanbeck said. "When there's an identified need to have a child meet with a qualified clinician, they (the therapist and child) can start the process of understanding emotions at a young age and it puts that child ahead in life. They learn tools to deescalate, self-soothe and start to heal. We're really interested in helping people find the best fit, the best tools, for long-term growth."
Quanbeck says expanding the telehealth program by building relationships with each school district in the HICS service area is the goal in 2023. Given the positive reception thus far, he wants everyone to better understand that prioritizing youth brain health is one of the best choices parents can make with their child.
"We are here to help," Quanbeck said. "We will help parents and families every step of the way and recognize this can be new, unexpected and even scary. When we all work together — parents, schools, HICS and our providers — it results in some pretty great outcomes for youth."
To learn more about telehealth options through HICS or speak with Quanbeck about brain health services for your child, please visit HICSiowa.org.