Improve your brain health with our help.
Individual mental health needs are as unique as physical health needs. Most people understand the importance of taking medicine or visiting a doctor when sick. Just as with physical ailments, you will likely face short- or long-term brain health issues. However, the stigma associated with mental health struggles still prevents many from seeking help. To combat that stigma and encourage Iowans to ask for support, Heart of Iowa is redefining mental health as brain health.
No matter the need, we can connect you with local providers who allow you to take back control of your brain health.
Crisis services
For immediate help, call the Your Life Iowa Crisis Line at 855-581-8111 or text 855-895-8398. Learn more about our crisis services here.
Support and therapy
Brain health struggles — whether you consider them big or small, short- or long-term — can feel overwhelming. Everyone faces brain health issues on occasion.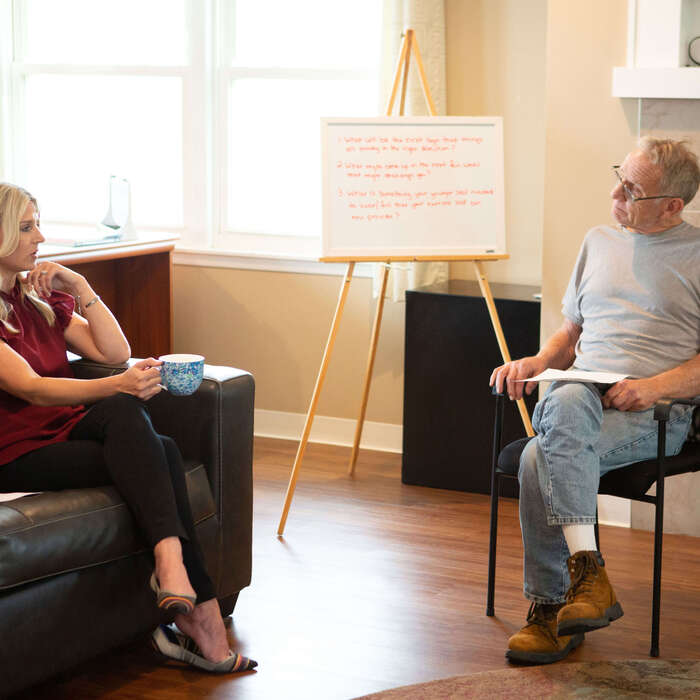 Working parents face burnout and stress. An LGBTQ+ teen who doesn't feel accepted can experience depression and anxiety. A spouse who lost their partner could be consumed by grief and loneliness. Many members of our community live with bipolar disorder, schizophrenia, post-traumatic stress disorder and other brain health symptoms.
Don't struggle alone. No matter the need, we can connect you to providers in your area who offer individual or group therapy, peer support groups, psychiatric services and more.
Substance use
If you or someone you know grapples with drug or alcohol dependence, you may not know how to get help. We do. Contact us for assistance in finding substance use programs close to home.
Hospitalization
If a loved one is struggling with brain health but is not an immediate danger to themselves or others, message us today. Often, untreated brain health issues can escalate over time. We can find the appropriate services that help individuals improve their quality of life with as little disruption as possible. 
However, hospitalization may be the best option for an individual whose struggles have become so great that their own or someone else's safety is threatened. Learn more about how we can assist with filing a commitment.
Brain health help is one message away. Heart of Iowa can help you navigate the process. Contact us today to find out how.