September is National Suicide Prevention Month. It was established in 2008 as a way to acknowledge those affected by suicide, raise awareness and connect individuals with suicidal ideation to treatment services. Despite growing efforts to bring attention to the topic, suicide remains the second leading cause of death among young people ages 10–24 and the 10th leading cause of death among adults in the U.S., according to The National Child Traumatic Stress Network.
As a parent, friend, neighbor or community member, there are a variety of things you can do to be aware of suicide warning signs among the people you see and interact with on a frequent basis. When we know the signs, we can work together to find solutions and help before it's too late. Trust Heart of Iowa Community Services (HICS) to be an everyday resource for Iowans when it comes to mental health challenges and crisis intervention.
Recognizing the warning signs in youth
The minds and inner workings of adolescents and youth are ever changing. Physiologically, mentally, emotionally and socially, their minds and bodies are constantly responding to the situations, changes and stressors in their young lives. Thus, it can be stated that when feelings of hopelessness, despair and depression set in, they can be attributed to a combination of factors.
"HICS has put forth time and resources to help families find the right solutions that fit their needs and abilities that ultimately help their child or children address mental health concerns," HICS CEO Darci Alt said. "Our Child and Adolescent Program Navigator (CAPN) service is really where we shine, as we have coordinators working closely with parents, schools, law enforcement organizations and other community groups to support the children of Dallas, Guthrie and Audubon counties. We also are happy to help families find the mental health resources or providers that have openings and are ready to help young people get on a better track."
For parents and loved ones, knowing the warning signs of suicide can be one of the first clues something is amiss with your child. It's also worth noting that youth identifying as LGBTQ+ may experience these feelings to a heightened degree. Check out our April blog to learn more about the mental health risks among this community.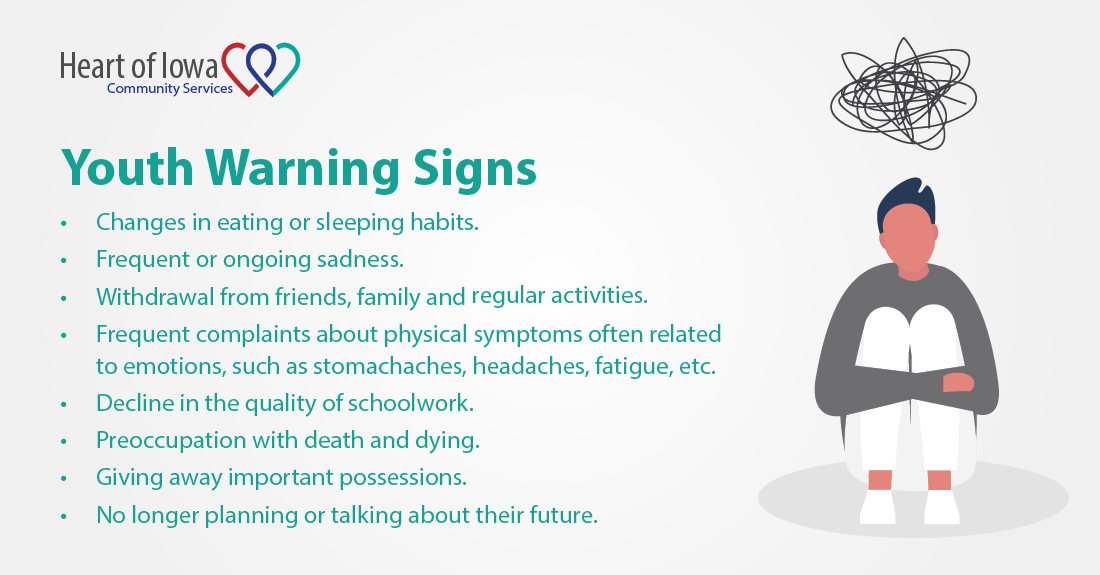 Checking in on the elderly
Another population that may be prone to deep depression or suicidal thoughts are older adults (those 65 years of age or older). While older adults comprise just 12% of the population, they make up approximately 18% of suicides.
According to the National Council on Aging and their resources, suicide is a significant concern for a variety of reasons that speak to the place and time where this population is in life. Risk factors include:
Loneliness and a lack of social interaction.
Grief over the loss of loved ones and friends due to age and/or illness.
Loss of self-sufficiency and independent skills, such as driving, appointment management and fewer activities.
Chronic illness and pain that contribute to decreased mobility and quality of life.
Cognitive impairment, such as early-onset Alzheimer's.
Financial concerns and constraints that may make food security and access to medication an ongoing challenge.
"Whether you care for an elderly person or simply see them as part of your daily routines, make an effort to connect with them," said Alt. "We know that social connection is key for this age group. Stopping by to say hello or bringing in packages from their doorstep are easy ways to ensure they are maintaining different aspects of their health and wellness."
Ensuring employees — and employers — are equipped
The bulk of our social interactions happen with those you work with, attend activities or gatherings with, or see out and about in the community. The term "check in on your friends" rings true here, especially as it pertains to employers being aware of factors that may influence their employee's mental health.
One of the easiest things employers can do is contact HICS and ask for one of their coordinators to come into their place of business and provide an overview of services, specifically for mental health, to employees. Armed with materials and helpful attitudes, HICS staff members are ready to help employers make mental health a priority in the workplace. Give them a call at 515-993-5896 or visit HICSIowa.org to learn more.
If you notice an employee or co-worker exhibiting warning signs similar to those in youth or the elderly, it's time to check in with them and let them know you're concerned about their well-being. It may be just what they need to know someone cares.
In times of need or crisis, know there are resources to help you.
High risk or impending crisis: If a mental health situation is escalating, call the Mobile Crisis Response team at 844-428-3878. Trained mobile crisis providers are best equipped to de-escalate mental health issues so individuals may be able to avoid being treated in a hospital in the future. Inside Out Wellness & Advocacy will send a team of trained mental health experts to meet you where you are in the community in an unmarked car to provide whatever services are needed in a familiar environment.
When you need to talk or don't know what to do: Call or text 988. When you contact the 988 Suicide and Crisis Lifeline, you'll be connected with a crisis counselor who can assist you, whether you're experiencing emotional distress or suicidal crisis or if you need guidance in helping a loved one through a crisis.
Regardless of the circumstance, Heart of Iowa is here to help Iowans. Resources are readily available for funding the services it takes to help Iowans get back on track for a healthier, happier life. Know that you are not alone and together, we can move toward better mental health in our communities and state.